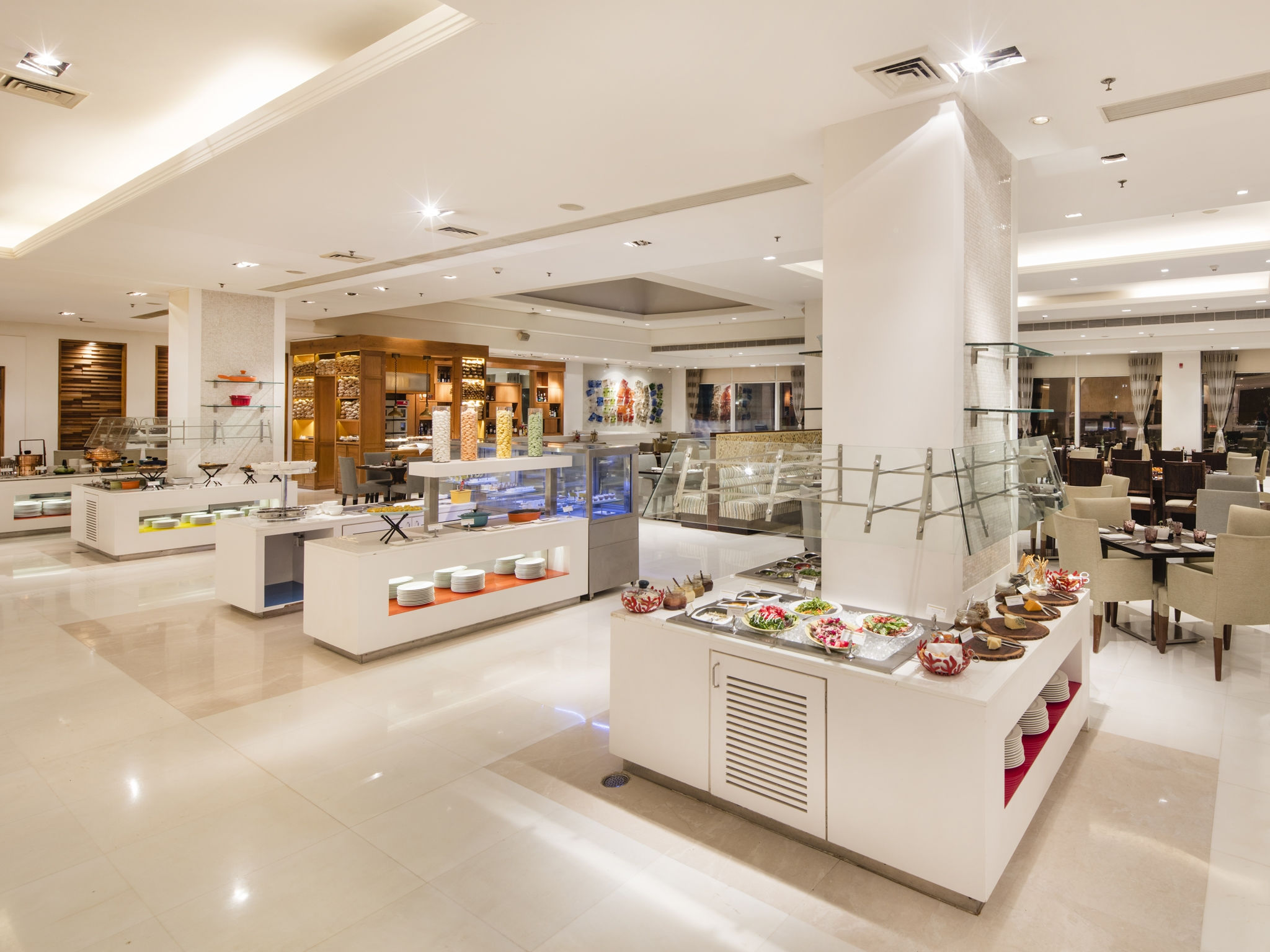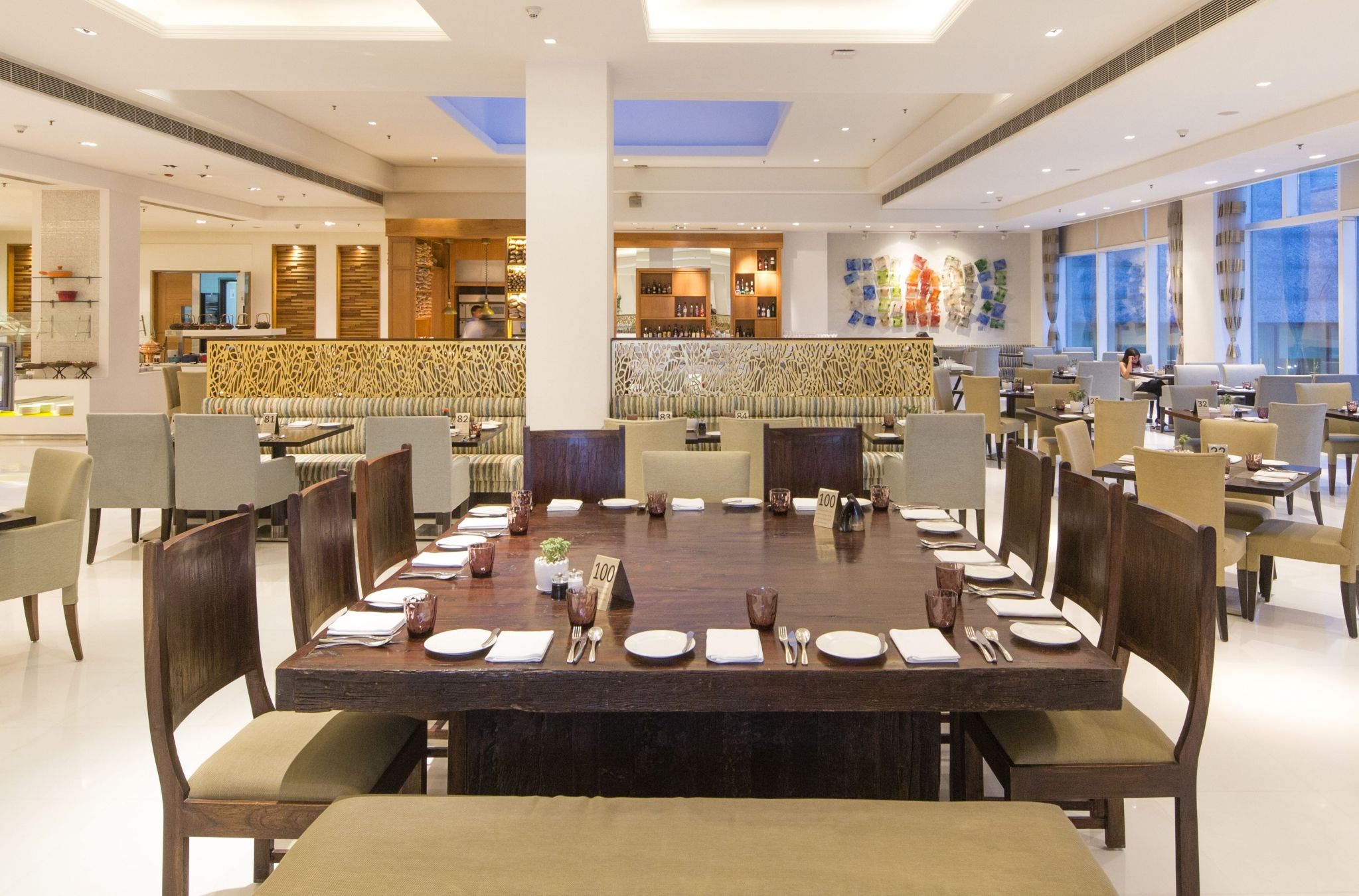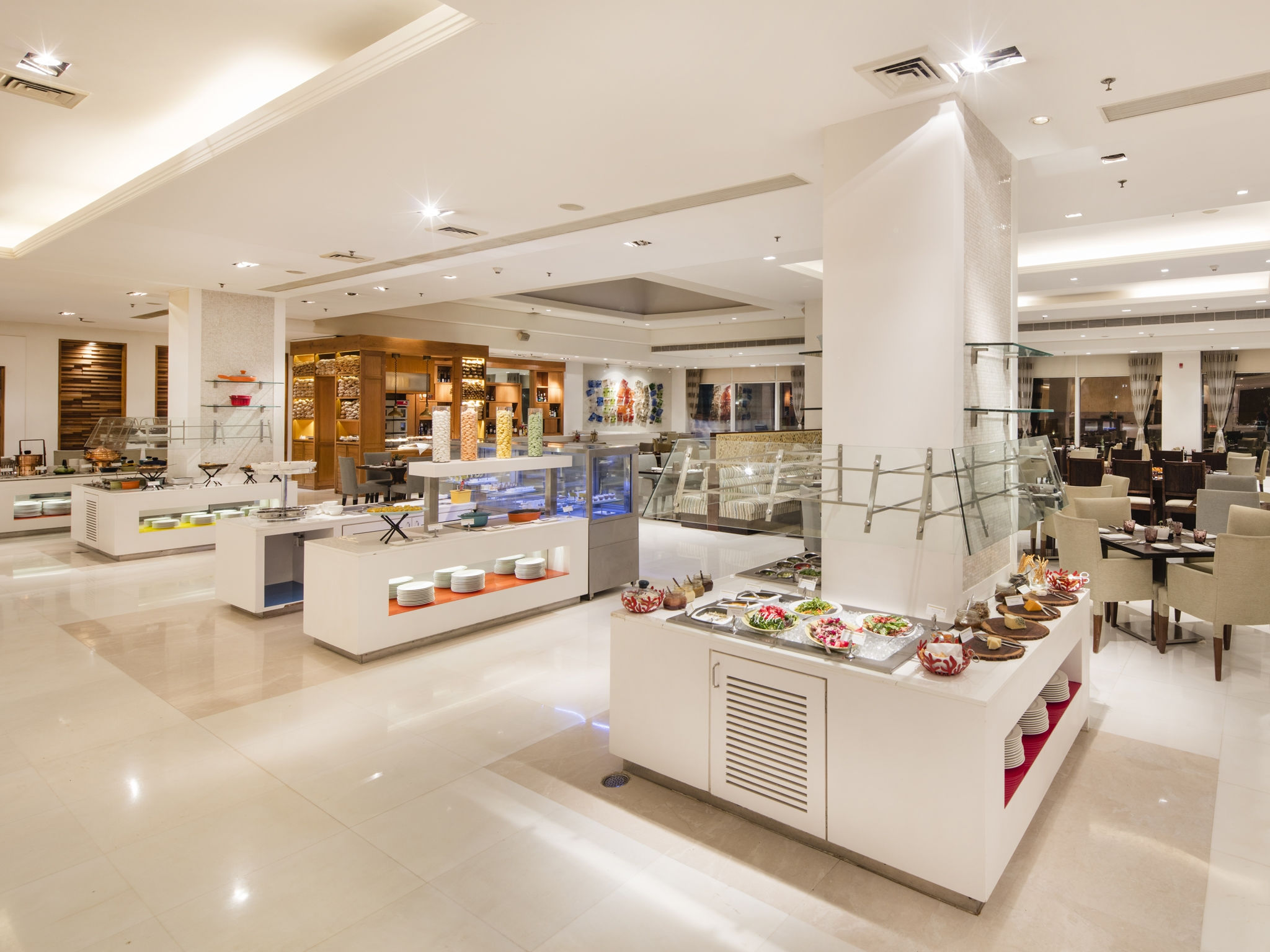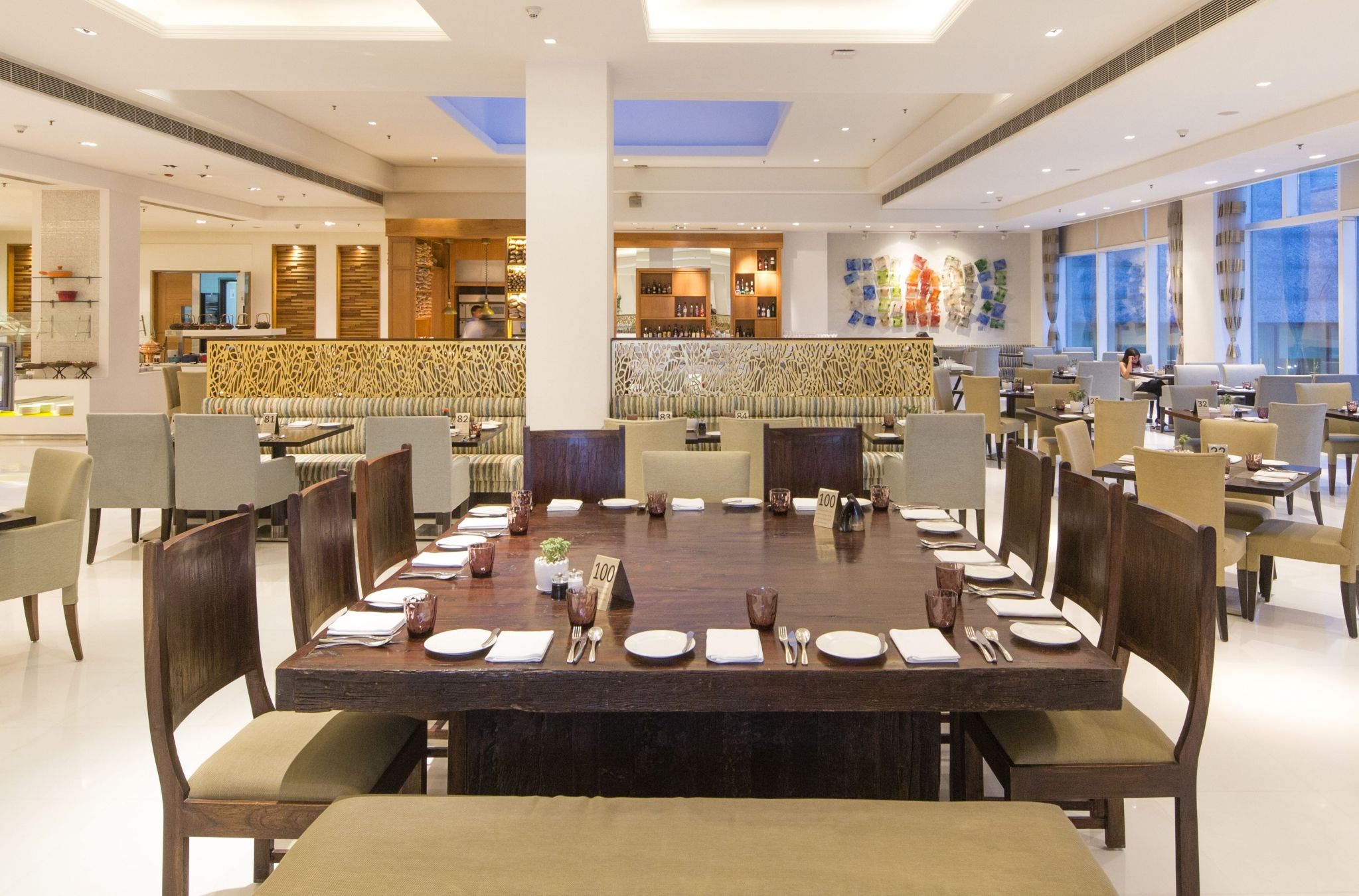 Discover Latest Recipe!
Location: Le Meridien Hub
Timings: Breakfast: 06:30 hrs to 10:30 hr// Lunch: 12:30 hrs to 15:30 hrs// Dinner: 19:00 hrs to 23:00 hrs
Serving Style: À la carte/ buffet
Cuisine: World Cuisine
An all-day dining restaurant featuring global cuisine presents guests with a sensory world cuisine experience. Located at the Lobby Level, the restaurant exudes a warm contemporary feel and a visual delight for the eyes; the bespoke music, styled to suit the mood of the day, the alluring aroma of food wafting through the restaurant, authentic & delectable world cuisine.
It revolves around the five interactive show kitchens displaying a sumptuous array of food, a dining concept that brings the excitement of cooking from the chefs. The widest spread includes a lot of innovative Asian and European offerings, not forget the duck oven and pizzeria section that the restaurant boasts about. Local and other regional cuisines are also one of the key components that complete it for the patrons. The outlet also has bakery section that always keeps the senses of customer refreshed with aroma of freshly baked breads. All three meals have an option of a Buffet as well as a very extensive an À la carte menu option.
Playing with natural light, the sky light in a section of the restaurant ceiling, paired with luscious green view and the warmth of the impeccable service creates an unforgettable experience at latest recipe. The far end of the restaurant consists of a Private Dining Room which is the perfect setting for a private dinner seating up to 14 people.
The breakfast buffet is priced at INR 950 + taxes for adults and INR 495 + taxes for children
Lunch is priced at INR 1450+ taxes for adults and INR 950 + taxes for children
Dinner is priced at INR 1750 + taxes for Adults and INR 950 + taxes for children
(There will be no charge for children below 3 years of age and children older than 3 years but younger than 12 years will get 50% off)
Sunday Brunch:
A foodie's delight, Sunday Brunch at Latest Recipe is the perfect getaway for pure indulgence and innovative engagement for the entire family. On Sundays we leave aside the idea of a-la-carte) and bring to you a lavish buffet menu. With scrumptious food across live stations, sparkling and artisanal wines and innovative cocktails, Le Meridien ensures you have the perfect Sunday.

With a spread of around 200 dishes, buffet's multi-cuisine options include Italian, Asian, Arabic, Thai and Western. There is also a Sunday special pizza whipped up by award winning chefs, selection of vegetable juice blends and a variety of condiments along with innovative beverage bars. Guests have a choice of different beverages each Sunday - from a Bloody Mary, to a Mojito to a Martini Bar. Cherry on the cake is the grand dessert buffet that triumphs with delectable sweet treats for all palettes.

It's a treat for your senses you shall never forget.
Sunday Brunch starts at INR 2450 + taxes and goes up to INR 3250+ taxes. Sunday brunch for children is priced at 1250 + taxes
Reserve your table now OR call : +124 499 2008